---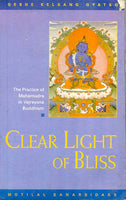 Clear light of Bliss is a unique and highly acclaimed explanation of the advanced practices of Vajrayana Buddhism - the supreme path to enlightenment taught by Buddha. The book provides a detailed and practical explanation of the complection stage practices of Tantric Mahamudra, from the initial meditation on our subtle body, through the stages of inner fire meditation and the four joys, to the final attainment. Geshe kelsang also gives extraordinarily clear explanations of the nature of the mind, how to develop meditative concentration, and how to meditate on emptiness, the ultimate nature of reality. This book will be an invaluable guide to those travelling the Tantric swift path to full enlightenment.
Review(s)
The book is primarily meant for western practitioners of Dharma... Vajrayana Mahamudra practice is based on the Tantras, unlike the Sutra practice which is based on the teachings of the Buddha... N.V.C. Swamy - The Vedanta Kesari, Vol. 89, Feb., 2002.
About the Author(s)
GESHE KELSANG GYATSO, a fully accomplished meditation master and internationally renowed teacher of Buddhism, is the author of a series of highly acclaimed books that transmit perfectly the ancient wisdom of Buddhism to our contemporary life. He has also founded many Buddhist Centres throughout the World.