---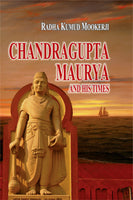 Sale
This is a comprehensive work dealing with the life and times of India's first historical emperor, and a picture of the civilization of India in the early period of the fourth century BC.
The author while enlightening on the origin and early life, conquests and chronology, administration, ideals, divisions, presents the reader in the court of first historical emperor of India, duly attended by his popular ministers and officers and acquaints the student with the rules of service and administrative departments. Land system and rural administration is surveyed along with the municipal administration of the times. Justice personified in the King appears before us along with the huge divisions of the army to maintain it. Social and economic conditions have been so elaborately discussed as to cause surprise and curiosity. As a matter of fact the author takes the reader back to the golden times as if by magic.
To render the matter easily accessible to the reader an Index of subjects, an Index of Technical Terms, three Appendices and a plate of typical Mauryan coins, have also been added. This work is meant to fill up a gap in the knowledge of Ancient India.
Review(s)
About the Author(s)
Noted historian and politician, Dr. Radhakumud Mookerji, started life as Professor of History in the Bengal National College under the Principalship of the late Sri Aurobindo. Subsequently, he joined the Mysore University where he was Professor of History from 1917 to 1921. Thereafter he became Professor and Head of the Department of History in the Lucknow University and remained there for an unbroken period of twenty-five years. After retirement he continued to be Emeritus where his friends had endowed a Lectureship in his name. He was a prolific author and had to his credit 15 books on different aspects of ancient India.