---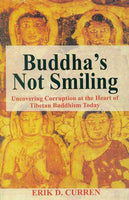 Sale
Interest in Buddhism has exploded in the last couple of decades, and millions of people around the world view Tibetan Buddhism as the religion's most pure and authentic form. Yet, a political conflict among Tibetan lamas themselves is now poised to tear the Tibetan Buddhist world apart and threaten the ntegrity of its thousand-year old teachings.
On August 2, 1993, Rumtek monastery was attacked. Its monks were expelled and the cloister was turned over to supporters of a boy-lamas appointed by the Chinese government. But Rumtek was not in China, and its attackers were not Communist troops. Rumtek was in India, the refuge for most exiled Tibetans. And it was Tibetan lamas and monks themselves who led the siege. Yet, evidence shows that Chinese agents directly supported Tibetan lamas and monks who attacked Rumtek monastery.
While a complete picture of this controversy has been blurred by the media's focus on international Buddhist celebrities, Buddha's Not Smiling challengers Readers to Judge for themselves the health of Tibetan Buddhism today.
Review(s)
"This insightful book is a clarion call to Tibetan Buddhists to choose their leaders by applying the only standard the Buddha himself would have used: self-mastery." - Sankara Saranam, author of God Without Religion
"This book is richly researched, deeply informed, and written with clarity and honesty, an eye-opener for Buddhists and non-Buddhists alike."-Michael Parenti, author of the Culture Struggle and The Assassination of Julius Caesar
About the Author(s)
Erik D. Curren has served as a communications and political consultant to such organizations as the State of California, City of Los Angeles, Hill and Knowlton, Wells Fargo Bank, and the Natural Resources Defense Council.  Research for this book took him to India, Nepal and Tibet for interviews with lamas, monks and government officials involved in the crisis.