---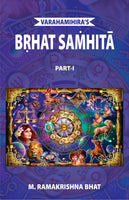 Sale
The Brhat Sarhhitii of Varahamihira is an encyclopaedia of astrological and other subjects of human interest. Whatever subject the author takes up for delineation, whether it is eclipse, planetary movements,
rainfall, cloud, architecture, water divination or some other topic, he discusses the same with thoroughness and mastery based on the knowledge of ancient sastras. Wherever he differs from ancients he gives reasons for it. Section I describes the movement of planets from the astronomical and astrological points of view. Section 2 discusses the allotment of countries to the nine regions on the basis of constellations. Section 3 treats of the effects of years, months and days presided over by different planets. Section 4 expounds subjects like cloud formation, wind and rainfall while Section 5 discusses flowers and creepers. Section 6 deals with portents. Section 7 treats growth of crops, commodities, prices and trades and Section 8 describes ritual for the improvement of royal powers. Section 9 explains signs of men and women; Section 10 deals with architecture, town-planning, water- divination, etc. Section 11 treats of trees. Section 12 expounds the manufacture of perfumes. Section 13 describes animals, cows, dogs, etc: Section 14 relates to domestic felicity, erotic remedies, etc. Section 15 describes gems and their value. Section 16 deals with cleansing of teeth, Section 17 delineate omens through birds and beasts. Section 18 is devoted to the functions of asterisms, lunar days, etc., and an exhaustive introduction discussing all the relevant topics in detail.
Review(s)
About the Author(s)
PROF. M.R. BHAT was a well known Samskrta scholar, teacher, poet and astrologer, who retired in 1974 as the Head of Sanskrit Department of Hindu College, Delhi University. He had served the cause of Samskrta learning and Indian culture for more than half a century. Prof. Bhat edited with translation classical works like the Brhat Samhita of Varahamihira (2 Volumes), Horasarah of Prthuyasas, Prasnajnanam of Bhattotpala. Author of Fundamentals of Astrology. Prof. Bhat had revised the translation of Uttara-kalamrtam, and Phaladipika. He was the founder-editor of the Sanskrit _English Journal Amrtavani and had contributed a large number of articles on oriental learning and culture of various journals and periodicals. In recognition of his erudition and devotion to oriental learning and culture Prof, Bhat was conferred the titles Vidyabhaskara, Vidyasagara and Kavitacatura. Prof. Bhat died in 1990.