---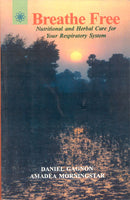 An important contribution to the field of olistic health care. It provides therapeutic guidelines for holistic approach. An expose on respiratory diseases and their natural treatment. It helps to learn how you can heal and/or manage: Common Cold/Flu; Earache/ Asthma; Allergies/ Hay Fever; Pleurisy/ Pneumonia; Cough/ Sore Throat; bronchitis/ Emphysema; Aids and Related Respiratory Infections.
Review(s)
"This book will help in managing and healing various ailment of human body ourselves." - THE HOLISTIC AFFAIRS
About the Author(s)
DANIEL GAGNON is a practicing herbalist specializing in herbal products.
AMADEA MORNINGSTAR is a practicing clinical nutritionist and teacher and
author of the Ayurvedic Cookbook.