---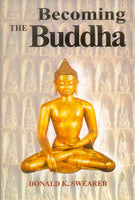 Becoming the Buddha is the first booklength study of a key ritual of Buddhist practice in Asia : the consecraation of a Buddha image or "new Buddha," a ceremony by which the Buddha becomes present or alive. Through a richly detailed, accessible exploration of this ritual in northern Thailand, an exploration that stands apart from standard text-based or anthropological approaches, Donald Swearer makes a major contribution to our understanding of the Buddha image, its role in Buddhist devotional life, and its relationship to the veneration of Buddha relics. Blending ethnography, analysis, and Buddhist texts relates to this mimetic reenactment of the night of the Buddha's enlightenment, he demonstrates that the image becomes the Buddha's story and charged with the extraordinary power of Buddhahood. The process by which this transformation occurs through chant, sermon, meditation, and the presence of charismatic monks is at the heart of this book. Known as "opening the eyes of the Buddha," image consecration traditions throughout Buddhist Asia share much in cmmon. Within the cultural context of northern Thailand, Becoming the Buddha illuminaes scriptural accounts of the making of the first Buddha image; looks at debates over the ritual's historical origin, at Buddhological insights achieved, and at the hermeneutics of absence and presence; and provides a thematic comparison of several Buddhist traditions.
Review(s)
Donald K. Swearer is the Charles Harriet Cox McDowell Professor Religion and Philosophy at Swarthmore College. Hist recent books include The Buddhist World of Southeast Asia and The Legend of Queen Cama.
"Drawing on More than four decades of textual res
About the Author(s)
Donald K. Swearer is the Charles & Harriet Cox McDowell Professor of Religion and Philosophy at Swarthmore College. His recent books include The Budhist World of Southeast Asia and The Legend of Queen Cama. "Drawing on more than four decades of textual research and field experience in northern Thailand, Swearer provides compelling descriptions and probing analyses that will command the attention of scholars in Buddhist studies and ritual studies for many years to come."