---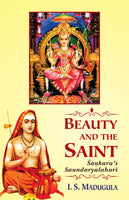 Sale
Some might say, with great justification, that is foolhardy to write another book about the perennial tantric-devotional classic Saundaryalahari which has an honored place in just about every Indian household, guiding the lives of worshippers and practitioners of Devi rituals ever since Sankara gave the finishing touches to Sri Cakra.
Indeed, every verse of the poem has been thoroughly analyzed, the Tantra has been explained, and the supreme beauty of Devi, the consort of Siva, who is an integral aspect of His perfection and His performance. He is simply incomplete without Her. And they, together, constitute Universal Consciousness that is Brahman.
My aim is rather humble. While it is true that just about every aspect of the poem has been written about already, it seemed to me that the preponderant philosophy of the text rather choked off its art the poetry.  It makes me rather sad that the best Sankara scholars somehow overlooked the literary component of his profoundly beautiful poetic craft. Advaita shines through every poem that he wrote, with all the artistic devices that he employed serving the single unwavering message tat tvam asi, 'That you are!'
Given this modest aim, a brief digest of the principles of Tantra, the tradition of Sri Cakra worship, the meanings of the thousand names of Lalita, and other general background information has been presented, so that readers would have a comprehensive picture of the genesis and provenance of the poem.
Those devices are aplenty in his hymns, ranging from simple alliteration to complex metaphors, and basic sound effects to amazing syntactic patterns. His imagery is ever fresh, and his diction invariably provocative. The result is blissful poetry whose impact on the reader is indelible. In short, it makes the reader gobble up scores of his verses, and then come back for seconds.
If Sankara wrote nothing but his hymnals, without exaggeration, he would be the foremost devotee, the foremost poet, and the foremost wordsmith in the whole of Sanskrit literature.
This book is the third in the series Dr. I. S. Madugula of Austin, Texas has written on Sankara and his work.