---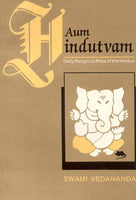 The author negates some of the very old concepts, viz., that females and
Shudras, and people who have not undergone the Upanayana Samskaras have no
access to Vedas or they should not perform Vedic rituals. He insists that
'all religious observances of a man, if devoid of right conduct, are of no
avail. Right conduct constitutes an important element of education and
civilization. In his opinion Hindus will have to develop the
all-comprehensive idea of Hindu Dharma in and through their lives and
activities. Their welfare lies in the Vedic prayers and practices.
Those who are interested in Hindu Dharma, and those who want to know about
its rituals will find the present work indispensable. The author deals with
the religious practices, observances and rituals. When, how, and where
certain rituals are to be performed, is clearly discussed. Benefits of
Divine Communion are given special emphasis.
Review(s)
About the Author(s)