---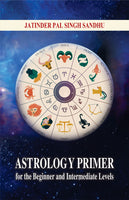 Sale
About the Book:
Indian Astrology or Jyotish is a subject that has been said to be of divine origin, the word Jyotish is made of two such words Jyoti-Light and Ish—The Ishwar or God, in other words astrology can be termed as Light of God .
Vedic astrology is the art of forecasting events, validating past and analysing the present with the aid of dictums, fundamental and principals of Vedic astrology.
Astrology is indicative in nature and is not conclusive or absolute.
This book is a must have for every leaner and aspirant as it practically guides even the novice through illustrations and examples in a very simple and subjective manner. The reader is guided and is led to understand the basic rudimentary fundamentals of Vedic astrology.
The book is also designed as a self help book to understand your individual or family horoscopes, so people who have been hereto unaware of astrology may understand the basic intrinsic understanding of Vedic astrology.
 This book is a self-explanatory work of mine for all seekers and aspirants. This book is the answer for all those who wanted to learn and understand astrology without having prior understanding or knowledge of it.
About the Author:
Jatinder Pal Singh Sandhu, researcher, astrologer and teacher of Vedic/Medical astrology with more than 5000 blog posts and as many articles posts on various astrological forums on spirituality and astrology like India divine, mystic boards, astrology tree, light on Vedic astrology etc. He is actively involved into research in Vedic and Medical astrology. His work have been published in almost all known journals of astrology. He has authored eight books on medical/Vedic astrology.
He teaches Medical and Vedic astrology to enthusiasts and even the stalwarts both from India and abroad.