---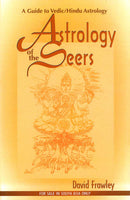 Sale
About the Book:
Vedic Astrology, also called Jyotish, is the traditional astrology of India and its profound yogic culture. It possesses a precise predictive value and a deep interpretation of the movement of life, unfolding the secrets of karma and destiny.
The Astrology of the Seers is a modern classic on Vedic astrology, covering all the main aspects of its philosophy, background and practice, including chart interpretation and methods of balancing planetary influences such as mantra and gem theraphy. The present edition has been thoroughly revised and updated.
About the Author:
David Frawley is the author of over twenty books on the spiritual wisdom of India where he is recognized as a Pandit and a Vedic teacher. He has been awarded the titles of Jyotish Kovid and Jyotish Vachaspati by the Indian Council of Astrological Sciences under the auspices of Dr. B.V. Raman. He is the president of the American Council of Vedic Astrology and director of the American Institute of Vedic Studies.
Reviews:
The Astrology of the Seers is a great introduction of Vedic astrology and, most importantly, clearly presents its spiritual and yogic basis. I recommend the book to everyone looking for a good place to approach this profound system of life analysis. - Chakrapani Ullal, World Renowed Vedic Astrologer.
The Astrology of the Seers is already considered to be a classic text in the field and a solid cornerstone for any Vedic science library. The chapter on remedial measures for strengthening planetary energies is a uniquely valuable resource guide for inner healing. - Dennis M. Harness, Ph.D., Author of The Nakshatras
Not only is the Astrology of the Seers a good introduction to Hindu Jyotisha, but it is also a mine of information on the subject. - Gayatri Devi Vasudev, Editor of the Astrological Magazine.