---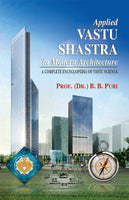 About the Book:
The Architectural practice discovered how to improve on the living condition of the habitat for prosperity and how to live a healthy and tension free life, with the aid of Vastu Shastra. The learned author gives full justice to explain the application of Vastu Shastra in modern architecture and make  modern living comfortable. This book of knowledge is with a full param-para explanation in order to establish that the Nature, man and product are within the evolutionary guided by performance standards.
Vedic knowledge is not a question of research. Our research work is imperfect because we research things with imperfect sense. We have to accept perfect knowledge which comes down from the proper sources.
I was born in the darkest ignorance and my spiritual master opened my eyes with the touch of knowledge.
This book is recommended by the President Council of Architecture.
About the Author:
PROF. (DR.) B. B. PURI, Ph.D, Arch., D.Sc, D.Litt, M,B,H,B, (RMP) AMICE, USA a veteran from India has a multifaceted personality being a senior practicing Architect, Research Scholar, a Vastu Expert and a distinguished author having written over 50 inspiring books on spiritual and personal growth. His books are a manifestation of his wisdom that he has acquired over the years and selflessly shared with the world.
Prof. Puri has been associated with numerous professional organizations that have contributed to his versatility and depth of character, hence considered a guru, second to none by his disciples. His creative ability and writing prowess has earned him many accolades from the Hon' President and Prime Minister of not only our country but other nations too and several other eminent personalities.