---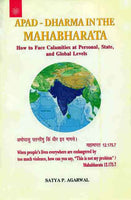 The literal meaning of the Sanskrit word "Apaddharma" is "dharma appropriate at the time of calamity". The Mahabharata's use of this expression implies that, in the opinion of the author of this epic, the traditional varnashramadharma would not prove to be strong enough to protect the society, if and when there is a calamity. Therefore, Vedic scholars ought to have welcomed the messages of Apad-dharma when the society was actually attacked by external forces during the premodern period.
The historical background of the present study poses an important, academic question: "How could the Indian society have protected itself against external attacks during the pre-modern period?" Research-based answers to such Indiarelated questions occupy the initial part of this book to which a global dimension has been added by digging deep into Mahabharata's innumerable stories. Results of innovative investiga-tions into the general question "How to face calamities at personal, state and global levels", are presented here in terms of a modern, scientific framework, and expressed in a non-denominational
terminology, relevant to the problems of the 21st century. Readers from all parts of the world can get a strong message of social responsibility from this book, and accordingly make their contribution to the cause of world peace.
Review(s)
About the Author(s)
Satya P. Agarwal acquired expertise in social science research, at U.S. Universities, in the 1950's. After nearly four decades of interdisciplinary study and applied research at the global level, they brought out the award-winning book "The Social Role of the Gita: How and Why. "Thus began a series of innovative research publications based on Sanskrit and Hindi texts. The present publication is No.15 in the series.