---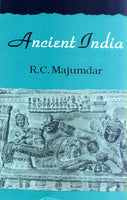 Sale
This is a comprehensive, intelligible and interesting portrait of Ancient Indian History and Civilization from a national historical point of view. The work is divided into three broad divisions of the natural course of cultural development in Ancient India: (1) From the prehistoric age to 600 B.C., (2) From 600 B.C. to 300 A.D., (3) From 300 A.D. to 1200 A.D.
The work describes the political, economic, religious and cultural conditions of the country, the expansionist activities, the colonisation schemes of her rulers in the Far East. Political theories and administrative organizations are also discussed but more stress has been laid on the religious, literary and cultural aspects of Ancient India.
Among the more important additions may be mentioned the chapters on the prehistoric age, including the Indus Valley Civilization,
more detailed account of the ancient republican clans and the various medieval local dynasties, specially those of the south, and
the development of art and colonisation. Important changes, though much less extensive, have been made in chapters dealing with
political theory and administrative system, as well as social and economic condition, and an entirely new section on coins has been added.
Considerable other modifications and rearrangements, involving re-grouping of chapters, have been made, and more copious footnotes and fuller bibliography have been added for the guidance of advanced students.
The book is of a more advanced type. It would meet the needs not only of general readers but also of earnest students who require a thorough grasp of the essential facts and features before taking up specialized study in any branch of the subject. It would also fulfil requirements of the candidates for competitive examinations in which Ancient Indian History and culture is a prescribed subject.
Review(s)
The author had discovered 'important fragments of the dramas of the great Buddhist poet Avaghosa, and of the plays of the famous Bhasa', which had thrown unexpected light on the early history of the drama in India, which students of theatre must know. The value and significance of Indian dramatic theory had retained its relevance so long that even today they continue to receive recognition universally. Hence this reprint.
.....An excellent treatise to equip one with the authentic knowledge of ancient Indian theatre traditions. - Indian and World Arts and Crafts, Vol. XIV, November 1995
The book published nearly seventy years ago, is still relevant and makes interesting reading. Though its coverage encompasses only a segment of Sanskrit drama, after having read the very informative book, one cannot but agree with Prof. Keith that "the Sanskrit drama can be legitimately regarded as the highest product of Indian poetry and as summing up in itself the first conception of literary art achieved by the very self conception of literary art achieved by the very self conscious creation of Indian literature." - J. Jayaraman, The Mountain Path, June 1995