---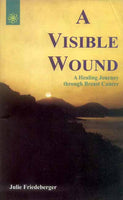 A Visible Wound: A Healing Journey through Breast Cancer, is a companion volume to The Healing Power of Yoga. It tells the story of Julie Friedeberger's journey through cancer in 1993, and describes how the practices and the philosophy of Yoga helped her through that difficult but transformative experience. The book offers practical and spiritual help to people dealing with life-changing illness, or any other major life challenge. It has given inspiration and insight to many, and in its first Indian edition it will continue to do so. What readers have said about A Visible Wound.
Review:
"A deeply moving and supportive experience.".
"Grateful thanks for opening my mind and inner core to the wisdom handed down over the centuries on how to help ourselves to better balance and health."
"A blessing to countless women and their families."
"
About the Author:
Julie Friedeberger was born in New York City and Lives in London with her husband, the painter Klaus Friedeberger. She has practised yoga since 1970, and has been teaching and training yoga since 1970, and has been teaching and training yoga teachers, since 1987. She is the author of Office Yoga and The Healing Power of Yoga.