---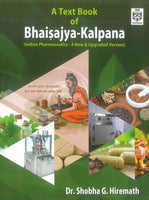 About the Book: 
The author of this book with her adequate teaching experience, enough exposure to the field of pharmaceutics and special fascination towards this branch of science has tried to minimize the scarcity of English text books on Bhaisajya Kalpana.
 The author has put sufficient efforts to cover all the chapters of new syllabus of Bhaisajya Kalpana. Recommended for II year B. A. M. S students by C.C.I.M. Where ever the author has considered it possible to introduce a parallel knowledge of modern pharmaceutics, one may find references to the same. This is to facilitate the students to acquaint themselves with the subject from Ayurveda and modern point of View.
 Further, the author has tried to substantiate textual quotations with scientific reasons and explanations.
 This comprehensive book, inclusive of all aspects of Bhaisajya Kalpana is of immense value to undergraduates and post-graduates of Ayurveda, professional teachers of the subject; Indian Pharmaceutics and manufacturers of Ayurveda drugs. The teachers and students of D. Pharma and applied botany can also make use of this book understand herbal/Ayurvedic preparations.