---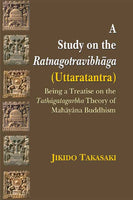 The Ratnagotravibhaga Mahayanottaratantrasastra, on which this present study is made, is one of the treatises on the Mahayana doctrine written in Sanskrit. It was, however, quite recently that the Sanskrit manuscripts were discovered and critically edited. Before then, it was known only
through the Tibetan and Chinese versions. The first introducer of this text to the world of modern study was Dr. E. Obermiller who translated the Tibetan version into English and made this text famous under the title of Uttaratantra according to the Tibetan tradition. In China, however, they used the name Ratnagotrasastra as its title, and this title was justified by the discovery of a Sanskrit fragment in Saka script in which we find the title Ratnagotravibhaga.
Dr. E.H. Johnston, the discoverer of this fact and the editor of the Sanskrit edition of this text, suggested the use of Ratnagotravibhaga as the proper title showing the main subject of this text. Johnston's critical edition, which is the basic text of this English translation, shows his remarkable skill in editing Sanskrit manuscripts and is an excellent contribution to Buddhist scholar.
From the structural point of view, the present text of the Ratnagotravithaga is a combination of the basic text and a commentary thereon. That much is regular in Buddhist literatures. The peculiarity of the Ratnagotravithaga. lies in the fact that it consists of two parts- in verse and in prose; while the verse section consists again of two parts-, one basic, and the other supplementary. In other words, the basic part of this text is merely of verses, while another part, the commentary, is in verse and in prose and the prose section of the commentary which follows the commentary verse or verses explaining their meaning with quotations from various sutras.
The Ratnagotravibhaga, also known as the Uttaratantra, is the only Indian treatise devoted to the Mahayana doctrine of Tathagatagarbha, or the notion that all beings possess within themselves the virtues and wisdom of a Tathagata, or Buddha, albeit in embryonic form (garbha). The present work, first published in 1966 and here reprinted for the first time, provides the only complete English translation of this important text.
Review(s)
About the Author(s)
Jikido Takasaki, D. Litt. (1926-2013), was a specialist in Indian Buddhism, especially the philosophy of Mahayana Buddhism. After graduating from the University of Tokyo in 1950, he studied at the Bhandarkar Oriental Research Institute at Poona, making a special study of the Ratnagotravibhaga, for which he received a Ph.D. degree in 1959 from the University of Poona. He began his teaching career in 1957 at Komazawa University, Tokyo, and after a period of teaching at Osaka University he eventually gained a professorship at the University of Tokyo in 1977, from where he retired in 1987. His many publications include, in addition to the present work, The Formation of Tathagata Thought (in Japanese), Lectures on the Lankavatarasutra (in Japanese), and An Introduction to Buddhism (in Japanese and English).