---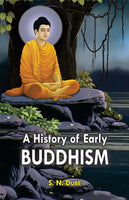 Sale
About the Book:
Buddhism, after a spell of dormant state for almost a millennium, seems to be attracting attention and we are witnessing the beginning of a sort of revival of Buddhist studies in the recent past. The present study is in the form of collection of essays written over the years, which have been duly modified and updated in the light of subsequent study and reflection. The subjects covered in the work include: 'Rise of Heterodoxy', 'Date of Buddha', 'Evolution of the Order', 'Origin of Sects', 'Doctrinal Disputes', 'Dilution of Arhatship', 'Buddha's Divinisation', 'Reflections on Nirvana', 'Asoka and Buddhism', 'Buddhism and Social Change', 'Women Images', 'Universality of Buddhism', 'Ascetic Rivals'. The thematic essays are followed by an appendix about Early Buddhism in the Himalayas. The entire work is intended to evince not only a strong thread that binds the kindred subjects together but it also delineates a sequential evolution to justify the context.
About the Author:
SURENDRA NATH DUBE (b. 1941) is a retired Tagore Professor & Head of the Department of History and Indian Culture, University of Rajasthan Jaipur. With a brilliant educational background —B.A. Allahabad University and M.A. in Ancient History, Culture & Archaeology (first position) at the University of Gorakhpur—he completed his Ph.D. under the supervision of well-known scholar Professor G.C. Pande. Prof. Dube's major publications include Cross Currents in Early Buddhism (Manohar, Delhi 1980), History of Indian Civilisation and Culture (Jaipur, 1985), (ed.) Religious Movements in Rajasthan (Centre for Rajasthan Studies, U.O.R. Jaipur, 1996), Ideas and Movements in the Age of the Mauryas (IIAS, Simla, 2012). His very first book 'Cross Currents 'has been acclaimed widely. In its review in the Indian Historical Review (Vol. VIII, No..1-2) it has been underlined, 'the book is neither ambitious nor speculative. This book will help scholars and researchers of Buddhism to better understand an extremely difficult and complicated text'. 
Professor Dube, after his superannuation in Dec. 2001, joined IIAS, Simla as a Fellow (2002-2005) and completed a project on the 'Ideas and Movements in the Age of the Mauryas'. Apart from being a member of the ICHR, New Delhi for two terms (2008-2014), He has held other academic-cum-administrative positions, such as Director Centre for Rajasthan Studies, Director P.G. School of Humanities and Director UGC- Human Resource Development Centre, UOR, Jaipur.