---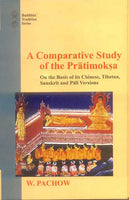 The Pratimoksa is a code of Buddhist monastic disciplinary rules governing the daily conduct and decorum of bhiksus (monks). It was established by the Buddha on various occasions out of necessity. This work discusses the historical cultural, religious and social issues in ancient India in relation to the rationale of formulating particular precepts. Depending on the special circumstances some of the rules may be enforced or suspended. On the basis of this code the Buddhist Sangha has the authority to impose punishment on the offender which ranges from expulsion to sanctions of probation, penance, forfeiture, repentance or confession. By effectively enforcing the code of Pratimoksa and observing the fortnightly recitation ceremony related to this text, the Sangha may attain the fruition of purity, harmony and spirutual liberation. This study has made an extensive comparison of the various versions belonging to different Buddhist sects in Sanskrit, Pali, Chinese and Tibetan languages. As a sequel it reveals how in a period of several centuries this code had expanded from 218 rulles of the Mahasanghikas to 263 of the Sarvastivadins. Viewing the text from the historical perspective one may better understand the significance of the legal, social and religious life of the Buddhist Sangha. Review(s) REVIEWS: "..... a thorough examination of the Buddhist monastic Vinaya rules. The author has carefully studied and compared the Chinese, Tibetan, Sanskrit and Pali versions of the pratimoksa belonging to different Buddhist schools... a valuable contributi About the Author(s)
Dr. W. Pachow is Professor Emeritus of Asian Religions and Buddhist Studies at the University of Iowa School of Religion, lowa City, lowa, USA Prior to this position he studied in China and India and taught at the Visva Bharati University, Santiniketan, the University of Allahabad, India, and the University of Ceylon, Peradeniya, Sri Lanka.
Besides the present work on the Pratimoksa, he has the following publications to his credit:
1.  Comparative Studies in the Parinibbana Sutta and its Chinese Versions, Santiniketan, 1946;
2.  The Pratimoksa-Sutra of the Mahasanghikas, Allahabad, 1956;
3.  Chinese Buddhism:  Aspects of Interaction and Reinterpretation, Washington, D.C.,  The University Press of America, 1980;
4.  An Anthology of Poetical Compositions from Tun-huang (in Chinese), Taiwan, 1965;
5.  The Best Short Stories of Tagore (in Chinese), Shanghai, 1946;
6.  A Translation of the Mahaparinibbana-Suttanta (in Chinese) Taipei, 1972;
7.  Pa- Chow Wen Tsun:  The Collected Works of W. Pachow, Taipei, 1985;
8.  A Study of the Twenty-two Dialogues on Mahayana Buddhism (Enlarged edition), Taipei, 1992;
9.  A Study and Translation of the Milindapanha (in Chinese), Beijing, 1997.
In addition, he is a contributor to the Encyclopaedia of Buddhism, Dictionary of Ming Biography, Abingdon Dictionary of Living Religions and many learned journals in Asia and America.