---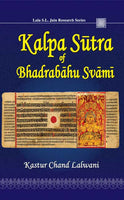 A translation of the Kalpa Sutra into English needs justification, since during the past few years several such translations have appeared int he market. The pioneering work by Hermann Jacobi remains a classic to this day, while in recent translations the writers have exercised a freedom which is hardly justified. The present translation not only claims complete authenticity, but, like the translation of a few other Jaina texts by the same writer, it also strictly follows the prakrit text in prose as well as verse so that the reader through the English medium may enjoy a taste of the original.
BhadrabëhuÍs Kalpa Sµutra is the earliest account of the life of the T?rtha?karas, the 24th, 23rd, 22nd and 1st"since the arrangement of the book moves back in time. The present work should, in the fitness of things, occupy a unique position. Scholars have divided this work into three Parts, viz., Tirthankaras, Church Leaders and Parjusana. For the present translation, however, it has been divided into seven Parts as follows: Bhagavan Mahavira, Arhat Parsva, Arhat Aristanemi, Twenty other Tirthankaras, Arhat Rsabha, Church Leaders and Parjusana.
Among the Agamic texts, Kalpa Sutra belongs to a group called Cheda Sµutra. Going by the contents of these texts, it would appear that they contain rules about personal behaviour and organisational discipline to be observed by the monks. Among the Cheda Sµutras, three names usually go together which are Dasa-kappa-vavahara and they are compiled into one text called Sruta Skandha. Kalpa Sutra is the eighth chapter of the Dasa text. With certain sects of the Jainas, the reading of the Kalpa Sutra during the Parjusana is a must which has contributed to the great spiritual significance of this work.
Review(s)
About the Author(s)