---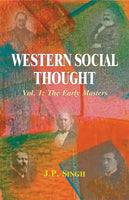 Sale
The book covers eighteen exponents of sociology who are regarded as masters of social thought. The book critically examines the major social thinkers from Auguste Comte to Robert King Merton chronologically. The sociological thinkers covered are Auguste Comte, Karl Marx, Herbert Spencer, Vilfredo Pareto, Ferdinand Tonnies, Thorstein Bunde Veblen, David Emile Durkheim, Georg Simmel, Maximilian Karl Emil Weber, George Herbert Mead, Charles Horton Cooley, Pitirim A. Sorokin, Herbert Marcuse, Alfred Schutz, Herbert Blumer, Talcott Parsons, George C. Homans, and Robert King Merton.
The Book offers students a lively and critical introduction to different concepts and theories and to the ways in which sociologists are trained to think and work. It is written with a range of students in mind.  It will also be of interest to anyone curious about the nature of classical sociology.
A central purpose of this text is to be as concise and simple as far as possible.  No student of sociology and its related fields can ignore this book.
About the Author:
J. P. Singh, an author and lexicographer, holds MA (PU, Patna) and MPhil in Sociology (J N U, New Delhi) and PhD in Demography from the Australian National University, Canberra. Worked as Associate Professor of Research Methodology at TISS. Mumbai, Addl. Director of Population Research Centre, Patna University, Director (Higher Education), Govt of Bihar, Pro Vice-Chancellor and Professor of Sociology at Patna University, Patna till his superannuation in 2015.  He held Professional Associateship of the Population Institute, East-West Center, Hawaii (USA).  In addition to numerous research papers in professional journals from India and abroad and standard textbooks in Hindi, the author has published such lexicographic titles as Samaj Vigyan Vishwakosh (2009), Manavshastra Shabdakosh (2019) and A Comprehensive Dictionary of Sociology (2021).