---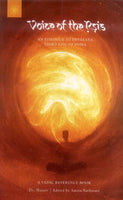 The Voice of the Rsis is a complementary volume to the great epic –Devayana" and to the –Glimpses of Devayana" already published in English. This anthology of Mantras from the Vedas and Upanisads is interpreted here with simplicity and clarity to their utmost beauty. These Mantras refer to many events mentioned in the Devayana and prove that these are not imaginary but they in fact have existed for aeons in our Vedas, Upanisads and the Epics. The approaching Golden Age was a promise made to us long ago by the Vedic Rsis
This vision of the Rsis provides us with an eloquent revelation and explanation. It offers us a provocative challenge to the accepted view of our scriptures. Dr. Hajari has interpreted these mantras with sensitivity and refinement. A must read for all those who are interested in finding a new insight into the mantras that are a part of our daily life.
To help us prepare the advent of the Golden Age, and audio CD –Welcome to The Golden Age" with the relevant mantras is enclosed.
Review(s)
–The Voice of the Rsis by Dr. Hajari is for everyone to understand. Certain parts of the secret knowledge of the Vedic Truth are presented in a simple language. It is an epilogue to Devayana, the third epic of India, written by Dr. Hajari in which he open
About the Author(s)
Dr. Hajari was born in Khulna, now in Bangladesh, on 16 September 1917. At the age of 18, he followed his Guru, Sri Aurobindo to his Ashram in Pondicherry where he lived till he passed away on 23 December 1978. While in the Ashram, Dr. Hazari served as a homeopathic doctor and in that capacity became well known by treating patients with incurable diseases. During the early 1950s he wrote the Devayana.