---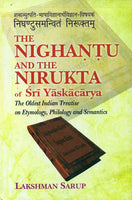 The Nighantus are the glossaries or lists of rare and obscure words occurring in the Vedic hymns. According to Yaska they were collected and classified by the descendants of ancient sages for the easier understanding of the Vedic texts.
The Nirukta is a famous work of Yaska. It is the oldest Indian Treatise on Etymology, Philology and Semantics. This being a commentary on the Nighantus, collection of obscure words which tradition ascribes also to Yaska, follows the three-fold division of the contents of the Nighantus. There are three sections in the Nirukta, viz., Naighantuka Kada ( consisting of lists in which Vedic words are collected under certain main ideas), Naigama Kanda or Aikapadika ( containing a list of ambiguous and particularly difficult words of the Vedas) and Daivata- Kanda ( classification of deities according to the three regions: earth, sky and heaven).
The book is divided into three parts. These contain Introduction, Translation and Sanskrit Text, accompanied by exegetical and critical Notes, Indices and Appendices.
An early Upanisadic Reader (With Notes, Glossary and an Appendix of related Vedic Texts )
Review(s)
The purpose, in writing this book, is to provide a self-contained primer, workbook and reader for teaching first-year Sanskrit students with no previous linguistic training. The author has tried throughout the work to introduce, explain and illustrate the
About the Author(s)