---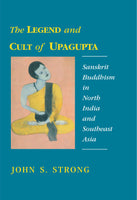 About the Book:
The Buddhist monk Upagupta, who preached and taught meditative practices in Northwest India over two thousand years ago, is venerated today by the laity in parts of Burma, Thailand, and Laos as a protective figure endowed with magical powers. In this monumental work John Strong offers a systematic presentation of the Indian and Southeast Asian legends and rituals surrounding this popular saint. Once considered by Buddhist authorities as only marginally important, Upagupta emerges here as a central, ubiquitous figure within the Buddhist world.
The author demonstrates the remarkable continuity among traditions focused on Upagupta in ancient Sarvastivadin Sanskrit materials, key Pali texts, medieval Thai and Burmese texts, and contemporary oral traditions and religious rituals in Southeast Asia. In so doing he reflects the orientation of popular Sanskrit Hinayana Buddhism, which allows for new perspectives on such classic questions as the nature of enlightenment, the role of asceticism, the problem of evil, the worship of the Buddha image, the veneration of saints, master-disciple relationships, the treatment of heterodoxy, and the relation of myth and ritual.
About the Author:
John S. Strong is Associate Professor of Religion at Bates College. Among his books is The Legend of King Asoka.