---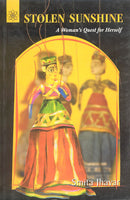 Set in the pre-independence and post-independence scenarios and spanning
three generations, "Stolen Sunshine" delves into the delicate
interpersonal relationships in a typical, traditional Marwari family; and
each girl's individual reaction to the same situation.
The book spreads into 13 chapters presenting a well-knitted plot. The
treatment to the subject is superb and there is continuous flow of events.
Review(s)
About the Author(s)
SMITA JHAVAR is currently Director, Bhartiya Vidhya Bhawan's Public School
Gwalior, and is actively involved in its functioning.