---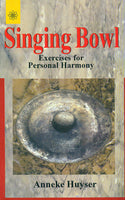 Anneke Huyser explains the symbolism of the bowls, and beaters, how their metals correspond to the planets, and how planetary energies, reflected in the frequencies of certain bowls, can be harnessed for personal transformation. She also provides information on the frequencies of colors so you can combine sound with colortherapy principles, and she includes basic information about the body's seven major chakras and how they are affected by singing bowls. With the exercises provided here, you'll learn how to:
* retrain how you listen to sounds;
* find your basic tone and choose a bowl that matches your personal frequency;
* make your bowl sing;
* work with planet tones;
* experience the healing vibrations of the bowl;
* give or receive a singing bowl sound massage;
* use singing bowls in story telling and many other activities.
Review(s)
About the Author(s)
Anneke Huyser, is a well known author of several metaphysical Dutch books on creating personal mandalas, elemental energies, and gemstones.  She has been giving lectures and workshops on creating personal mandalas and about the history and use of singing bowls.  She is part of a group of women who are editing a unique, quarterly periodical about mandalas.