---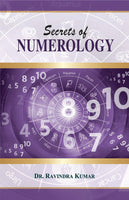 About the Book:
Numerology, the science of numbers, is based on the theory that each number has special characteristics that can influence the personality and destiny of an individual. In numerology, your name is an important clue to your character. You can change your name, or perhaps just the spelling of your name, and thereby change the course of your life.
Of all the sciences of prediction, numerology is the easiest to learn and the simplest to practise. An aid to the study of character and personality, it helps you to lead life more successfully, avoiding the pitfalls.
Secrets of Numerology, based on true-life cases, unfolds the Indian system of this occult science. It will enable you to make your own numerical chart and analyse your character, know your past, present and future, and your right vocation. It will help you achieve happiness and success, be it in love, marriage or business. And isn't that what we all want?
About the Author:

Dr. Ravindra Kumar, a Ph.D. from I.I.T., Delhi in1968 continued post-doctoral research at universities at Lancaster and London, U.K., and taught Mathematics in about ten countries. Through (sustained) astanga yoga his Kundalini awakened in 1987 in Zimbabwe. After several books in Maths he wrote twenty books on Kundalini and life after death. He published about thirty research papers in Maths and then about fifteen in spirituality and paranormal studies in U.S.A. He is a trustee of the Academy of Spirituality and Paranormal Research, USA, and founder President of the Academy of Kundalini Yoga and Quantum Soul. He has been professor and head of Yoga Philosophy and Meditation Dept. at Hindu University of America at Florida/Orlando, USA. He has successfully initiated a large number of selected practitioners around the world who got their Kundalini awakened and realised the Self/God.