---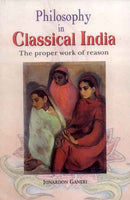 Sale
Recent years have seen the beginning of a radical reassessment of the philosophical literature of ancient and classical India. The analytical techniques of contemporary philosophy are being deployed towards fresh and original interpretations of the texts. This rational, rather than mystical, approach towards Indian philsophical theory has resulted in a need for a work which explains afresh its central methods, concepts and devices. This book meets that need. Assuming no prior familiarity with the texts, Jonardon Ganeri offers new interpretations which bring out the richness of Indian theory and the sophistication of its methods. Original in both approach and content, philosophy in Classical India contains many new results, analyses and explanations.
Review(s)
"This is a remarkable piece of scholarship and an absolute pleasure to read. What makes this work so outstanding is that the author is both an extremely accomplished philosopher as well as being proficient in the Indian source languages." - JOHN PEACOCK,
About the Author:
Jonardon Ganeri read mathematics at Cambridge before pursuing graduate studies in philosophy at London and Oxford. He is the author of Semantic Powers: Meaning and the Means of Knowing in Classical Indian Philosophy (1999). He is currently Spalding Fellow in Comparative Religions, Clare Hall, Cambridge.