---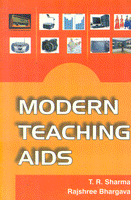 "Modern Teaching Aids" is a good attempt to acquaint the Learner and  Readers of any stage about the various teaching aids which can be successfully and effectively use in imparting knowledge to all branches. It contains six chapter.
 About the Author(s)
T.R. Sharma, (born 1925)is the Retired Professor, Head & Dean Faculty of Education, Punjabi University, Patiala, Director of I.A .S. Training Course and Coordinator of Correspondence Courses. He is the leading personality in Education and also functioning as an educational Journalist. He has many Honours and awards to his credit, notably. The Punjab Govt. Honoured by Bestowing Shiromani Literary Award and All India Praachi Psycho – Cultural Research Association has honoured as Renowned Educationist of the country. He is still associated with many editorial activities.
Mrs. Rajshree Bhargava, M.Sc. (Ext. Ed.), is at present Assistant Directors (Academic)of National Psychological Corporation, Agra and Hony. Executive Director, SAMADHAN KENDRA (A centre of Psychological Assessment, Guidance and Counselling), 20/4, Maruti Tower, S.P.C.C. , Agra – 282 002. She is throughout first class and topper at master's level and also qualified state level eligibility test at Home Science. She is Recipient of University of Rajasthan Gold Medal and also got award by All India Bhargava Sabha, New Delhi. She is associated as Life member of eight professional associations of national importance. By now, she has already participated in 18 Conferences, Seminars and Workshops. She has got published two books, six papers and two general articles.