---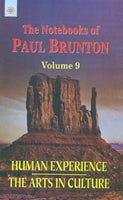 This ninth volume in The Notebooks of Paul Brunton is an in-depth presentation of the thirteenth and fourteenth (of twenty-eight) categories in the personal notebooks of Dr. Paul Brunton reserved for posthumous publication. Both topics in this volume explore the spiritual demand to cultivate one's full humanity.
Part 1, Human Experience, shows how to make everyday life into a process of spiritual discovery. It explores causes and purposes of suffering, problems of marriage and other relationships for spiritual seekers, needed reforms in education, special opportunities and problems of youth and old age, and the purpose of the modern world-crisis.
Part 2, The Arts in Culture, reverently celebrates the role of the Beautiful in human culture. Its highlights are sections on the mission of inspired art, creativity, genius, and the relationship of art and mystical experience.
Review(s)
"Human experience is our laboratory for higher experiment. The world is our school for spiritual discovery. The vicissitudes of personal circumstances are our field for ethical achievement."
"When creative art is truly inspired, it comes close to being sacramental." - Paul Brunton
About the Author(s)
Paul Brunton was one of the twentieth century's greatest explorers of the spiritual tradition of the East. He was also a journalist with a healthy regard for critical impartiality and for commonsense. These characteristics together with a rich inner life, made him a superb writer on the spirituality of the Orient.