---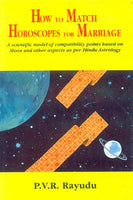 This study of the birth horoscopes for the marriage partners gives
sufficient basic clues for a happy partnership or otherwise. A Scientific
methodology based on compatibility on Moon and other aspects is evolved for
matching the horoscopes for marriage partners. The magnetic control,
amenability, psychological dispositions, mental qualities, bodily/physical
contacts, affection, harmony, progeny, temperament, character, pulse or
nervous energy indicating physiological and to certain amount hereditary
factors, duration of married life, widowhood etc. are considered for
matching horoscopes. Tables for compatibility points are given.
Accordingly, a criteria is evolved for matching of the two horoscopes as
poor, fair, good, very good, excellent. The complete scheme can be
computerized. Model horoscopes of couples with successful marriage and
prosperity are also given for ready interpretation of this methodology.
This book will make a useful addition to present literature on matching
horoscopes for marriage. It will be received with interest and approbation
by the students as well as scholars in the subject particularly the
scientific astrologers.
Review(s)
About the Author(s)
Shri P.V.R. Rayudu, B.E., M. Tech., a former Senior Scientist and Deputy Director of Defece Research Laboratory of Govt. of India, has been studying, researching and practising Hindu Astrology for the last three decades. He gave lectures in the conferences of the American Federation of Astrologers (AFA), Arsha Vidya Gurukulam in USA and at Maharshi University of management in Holland. His book how to Read a Horoscope: A Scientific Model of Prediction Based on Benefic and Malefic Analysis of Planets and Bhavas as per Hindu Astrology was published in 1997 by M/s. Motilal Banarsidass Publishers, Delhi, India. His articles were published in Indian and AFA magazine. He is a member of AFA. He was awarded "Divagna Ratna" and "Jyotisha Ardhakulu" by Star Astrological Research Centre, Hyderabad.