---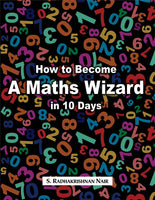 Sale
About the Book: 
This book is dedicated to my Divine Parents, Teachers/Gurus, especially, the Original Author of Vedic Mathematics Jagadguru Sankaracharya Sri Bharati Krishna Tirthaji.
As a maths teacher, teaching students of high school and junior college,for more than 30 years in Malad (W), Mumbai, I noted down the tricks that I used to teach my students which I learnt from my maths teachers! Now, all those have turned into this book, after repeated requests of students and parents.
This book might turn out to be an Arithmetical boost to one and all who go through it patiently:
Mathematics is the queen of all Sciences and ...

Arithmetic is the queen of Mathematics.
Positivities of this book is credited to never ending treasure house of knowledge, the VEDAS from where everything is derived from by Great Souls. In turn, our Gurus acquired and conveyed to us and now, its our turn to pass it on to our disciples if possible in simplified form for the benefit of mankind.

Finally, thanks to Pranav Arts, Kandivali for the typesetting job.
About the Author: 
MR. S. RADHAKRISHNAN NAIR [M.Sc (Maths), AMIE (Mech)] is a Teacher of Mathematics, since 1988 in Mumbai.
In his private coaching classes he nourished thousands of students. Many of the tricks taught to them now made available to future leaders through this book. In his mission/vision of Spreading the Power of Knowledge with the sincere efforts/help of the Publishers which the author want to mention with gratitude.