---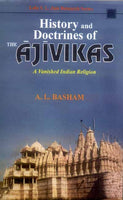 The book presents the history and the doctrines of the Ajivikas who formed a third heretical sect besides the sect of Gautama Buddha, the founder of Buddhism and that of Mahavira Vardhamana, the twenty-fourth Tirthankara of the Jainas. The three heterodox sects react against the ritualistic creed of the Vedists.
The cult of Ajivikas was founded by Makkhali Gosal, the contemporary of Mahavira Vardhamana, on the basis of strict determinism with a belief in the all-embracing rule of Niyati (principle of order). According to Gosal, it was Niyati which ultimately governed our action, controlled phenomena and left no room for human volition.
It will throw new light on an interesting and significant aspect of Indiaês past, and will encourage further research.
This book is divided into fifteen chapters discussing elaborately different aspects of the subject matter. The comprehensive Bibliography and Index are the added features for the researchers for comparative as well as further study of yet unexplored areas.
Review(s)
–Every statement of Professor Basham is authenticated with lots of supporting documents culled from different fields of studies: literary, inscriptional, and even from the art pictures. A book like this has a perennial source of information. It is quite i
About the Author(s)