---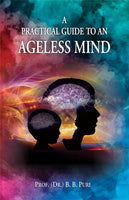 Sale
About the Book: 
This book may help you in creating and maintaining a proper balance between body, mind, soul, intellect and the environment around you in line with the five elements of Nature. You will be able to reduce the stress and strain of materialistic life, leading to a state of ultimate liberation and bliss.

The tips given in the various chapters offer a practical way of life which satisfies your spiritual needs leading to mental peace along with material prosperity.

Your very self is an ocean with a fortune of undiscovered wealth and unbounded love deep inside you that you can offer to others. Your Ageless Mind is so powerful that you can create an environment of your own choice to surround you.

May this book enlighten your intellect and environment, so that you can enjoy healthy, peaceful and comfortable living within the Laws of Nature.

May God Bless You with Peace, Health & Wealth.
In the Service of Building a Healthy Nation
About the Author: 
PROF. (DR.) B. B. PURI, Ph.D, Arch., D.Sc, D.Litt, M,B,H,B, (RMP) AMICE, USA a veteran from, India has a multifaceted pesonality-being a Sr. practicing Architect, Re-search Scholar, a Vastu Expert and a distinguished author having written over 50 inspiring books on spiritual and personal growth. His books are a manifestation of his wisdom that he has acquired over the years and selflessly shared with the world.

Prof. Puri has been associated with numerous professional organizations that have contributed to his versatility and depth of character, hence considered a guru, second to none by his disciples. His creative ability and writing prowess has earned him many accolades from the Hon' Presidents and Prime Ministers of not only our country but other nations and several other eminent personalities as well.