---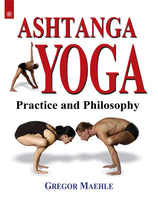 Ashtanga Yoga: Practice and Philosophy integrates Ashtanga Vinyasa Yoga and the Yoga Sutra of Patanjali as an organic whole, presenting them as two sides of the one coin. It also shows how the eight limbs are practised within the Ashtanga Vinyasa system.
An extensive explanation of the fundamental techniques of breath, bandhas and drishti is followed by a detailed and comprehensive study of each posture of the Primary Series, following the traditional Vinyasa count. This is complemented by clear and informative anatomical illustrations and descriptions. Additional information on the mythological background and yogic context of specific postures enhances and brings further insight to the practice. Practical tips are also offered.
In a final section of the book, a lively, authentic and practical rendering of the Yoga Sutra, for which the major ancient commentaries have been consulted, lucidly describes the entire path of Ashtanga Yoga and presents it as a realistic path for modern practitioners.
Review(s)
"Gregor Maehle's Ashtanga Yoga weaves philosophy and integrated knowledge of anatomy into our yoga practice to keep us centered in the heart of a profound tradition." - Richard Freeman.
"A much-needed new tool for practicing yoga with greater safety in the physical form and with much greater depth in the inner form of the practice. A valuable contribution to the evolving understanding of this profound system and method of yoga." - Chuck Miller
About the Author(s)
A student of history, philosophy and comparative religion, Gregor Maehle undertook yearly trips to India from 1984 to study yoga, meditation and philosophy with various masters. Meanwhile he gained anatomical understanding through completing the requirements for a German health practitioner (Heilpraktiker) licence. Since 1990 Ashtanga Yoga has been his main form of yoga practice. Hispassion is the study of Sanskrit. The author is co-founder and director of 8limbs Ashtanga Yoga in Perth, Australia.