---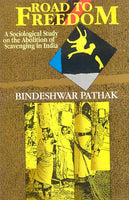 This book is the result of twenty years of study, research and fieldwork by the author who is a Gandhian with long years in social service. It is a seminal piece of work on scavenging which extensively discusses its sources, history and geographical spread.
The social inequity of the system has always concerned Dr. Bindeshwar Pathak who joined Gandhiji's movement for the liberation of scavengers soon after his education.
Road to Freedom is a holistic approach to the problem of scavenging aimed at a total liquidation of the system.
Review(s)
About the Author(s)
Dr. Bindeshwar Pathak is one of the greatest living Indians, whose contribution in the field of sanitation and his relentless fight to restore the dignity and the rights of India's untouchables-the manual scavengers are historic and well known.
He is the Founder of Sulabh International, one of the largest NGOs in the world. His innovation of two-pit-flush technology has helped provide low cost environment friendly toilets to millions of people in the developing world. He is acclaimed as an international expert on sanitation, and his innovation popularly known as Sulabh Shauchalaya System is recommended as a global best practice by the United National Centre for Human Settlements. He is globally recognised as a sanitation crusader, a social transformer and an inspirational leader, who has changed the lives and attitudes of millions of people.