---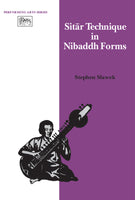 Students of Indian music are well aware of the emphasis their gurus place on the development of correct technique through rigorous practice. This book focuses on sitar technique and shows how that technique comes into play during the improvisatory music-making endeavours of master sitarists.
A series of systematic descriptions and analyses reveals how instrumental technique acts as a generative structure at the broad level and provides a corpus of factors of variation at the specific level. A unique feature of this study is the inclusion of musical transcriptions detailing not only the line of melody, but also the physical gestures (techniques) necessary to produce melody. Though technically complex in appearance, these transcriptions and the accompanying analyses provide
valuable information to students interested in learning Sitar and to musicologists and thnomusicologists inquiring into the basic improvisational processes that underlie contemporary styles of Sitar performance.
Review(s)
About the Author:
STEPHEN M. SLAWEK, Associate Professor of Music and Asian Studies at The
University of Texas at Austin, is an ethnomusicologist specializing on the
music cultures of South Asia.