---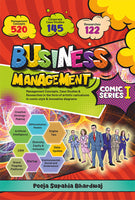 The author has crafted a truly unique tome on the subject of management, adopting the unconventional format of a comic book interwoven with diagrams. This creative endeavor is propelled by a noble aspiration to elevate the overall 'Happiness Index' within the corporate sphere. The content is conveyed through the engaging narrative of an accomplished professional with aspirations of becoming an entrepreneur.


Why buy this book?

Challenges: Obstacles are a common occurrence in the business/corporate world when attempting to navigate complex management concepts, extensive examples of the real-world application (case studies), and extensive researches, all of which are arduous to read and difficult to recall when necessary.

Solution offered:

• The book provides simplified and intelligible diagrammatic representations of
management concepts, case studies & researches. These visual aids are designed to
optimise the process of comprehension and recall, ensuring efficient assimilation of
the subject matter.

• The medium of sequential art, commonly referred to as comics, has a significant and
captivating impact on the cognitive abilities of individuals.

• Each episode is designed uniquely by using 'psychometric' and 'visual-spatial'
techniques, which guarantee an unparalleled learning experience in the field of
business management.

It has the unique capacity to communicate multiple corporate/business issues effectively and concisely, demonstrating its intrinsic potency as a medium of intellectual communication. Thus, serving as a straightforward, ready-to-use manual.

Key Takeaways: 520 Management Concepts, 145 Corporate Case Studies and 122 Researches.
About the Author:
Pooja has an extensive professional background spanning more than two decades, encompassing a diverse array of corporate endeavours across Asia, Europe, and the Middle East. Over the course of her illustrious professional trajectory, she has garnered a multitude of accolades and honours. As the CEO of a specialty consulting firm, she adeptly oversees the domains of Ethics, Governance, and Startups. She is known as the 'Management Guru'.

Her academic credentials include education from reputable institutions such as London Business School & Heriot-Watt University. After penning several articles for academic journals, she embarked upon the noble pursuit of authorship, culminating in the publication of her highly regarded and accredited literary work, 'The Essential Management Handbook', which garnered both critical acclaim and prestigious awards.
Reviews:
"This book is visual delight, and the comic book design effectively conveys the idea. I hope that current and rising leaders would grasp the simple ideas, particularly the intricacies related to Diversity, Equity, and Inclusion, paving the path for a more harmonious and balanced society."
Maya Shahani
Chairperson, SAGE Foundation
Chairperson, Shahani Group
Trustee, HSNC Board
Vice Chairperson, Global Dialogue Foundation
"Fascinating to see a book that covers intricate topics and complex ideas, such as data privacy, data-opolies, and the Al ethics committee. The comic book style and diagrams do a great job of explaining these ideas. This comic book technique should be used to spread public policy and understanding."
Rakes Maheshwari
Formerly Sr. Director and Group Coordinator
(Cyber Law and Data Governance) at
Ministry of Electronics and Information Technology (MeITY),
Govt. of India
"This book is actually a JOURNEY, a FUN FILLED and INTELLECTUALLY enriched one. Poised to INSPIRE and ASPIRE readers."
Gaurav Gupta
TEDx Ambassador India,
Social Worker, and Entrepreneur,
Founder: JEGO (Live a full spectrum life),
Federation100, Minds Ignited Foundation, TEDxDelhi
"One word, incredible book! At last there is a toolkit available for both aspiring entrepreneurs and seasoned business professionals. It's a powerful instrument that everyone should have in this competitive world".
Devendra Taneja
Founder & CEO, PC Solutions
"A revolution in management book writing style through an amalgamation of the four pillars, nice story, good content, great innovative diagrammatic representation and absolutely amazing comic book style presentation. Rekindled my youthful vigour while stimulating my intellect."
Sanjeev Saxena
Managing Partner, ASAS
Private Wealth Management Business, DIFC, Dubai
"An overall interesting and amazing book to read. Especially twisted ideas like 'Engine Two' and Creative Strategy Making', in particular, have been interpreted in a simplified diagrammatic manner, making them practically useful. I hope the community gets better and that there are more logical thinkers at all levels."
Iyer S Alamelu
Ex. Dy. Manager, The Times of India
Secretary General Women's Movement