---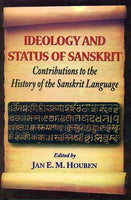 The present volume is the outcome of a seminar on the Ideology and Status of Sanskrit held in Leiden under the auspices of the International Institute for Asian Studies. The book contains studies of crucial periods and important areas in the history of the Sanskrit language, from the earliest, Vedic and pre-Vedic periods, through the period in which the (restricted) use of Sanskrit spread over practically all of South (including part of Central) and Southeast Asia (sometimes referred to as the period of 'Greater India') up to the recent history of Sanskrit in India.
The contributions of this volume are divided into three sections: 1. Origins and creation of the 'Eternal Language'; 2. Transculturation, Vernacularization,; Sanskritization,; 3. The Sanskrit Tradition: Continuity from the Past or Construction from the Present?
Review(s)
"This volume... is a welcome addition to the literature on the historical role of Sanskrit. The book marks a potentially fruitful shift in the interests of many Sanskrit scholars. ...[It]makes a much needed contribution to the study of this language [Sanskrit] and its various cultural and political milieus."-Robert P. Goldman, The Journal of Asian Studies, 56.4: 1126-27, 1997
"...I can recommend the collection as a whole as a lively, thoughtful, and stimulating survey of many of the fundamental problems we encounter when thinking about language and society in the history of South and Southeast Asia."-Stephanie Jamison, The International Journal of Hindu Studies, 1.2: 428-29, 1997
This book edited by Jan E.M. Houben is a very important contribution to Sanskrit studies... . This collection of papers amounts thus, to a preliminary social history of Sanskrit, from Vedic times up to the present." - Eugenio R. Lujan, Word, 49.2: 291-93, 1998
"As it stands, it is a valuable and instructive set of articles for the student of Old Indic" - Edgar C. Polome, The Journal of Indo-European Studies, Spring/ Summer, 27: 1-2, 1999
About the Author(s)
Jan E. M. Houben obtained his Ph.D. in 1992 for a thesis on Bhartrhari's philosophy of language (Utrecht University). He edited the volume Ideology & Status of Sanskrit in 1996 as Fellow of the International Institute for Asian Studies, Leiden.
Books authored and edited by him include the monographs The Pravargya Brahmana of the Taittiriya Aranyaka: An Ancient Commentary on the Pravargya Ritual (Delhi, 1991), The Sambandha-Samuddesa (chapter on relation) and Bhartrhari's Philosophy of Language (Groningen, 1995), and the collective Volumes, The Emergence of Semantics in Four Linguistic Traditions, Hebrew, Sanskrit, Greek and Arabic (Amsterdam, 1997; together with Van Bekkum, Sluiter and Versteegh)and Violence Denied: Violence, Non-Violence and the Rationalization of Violence in South Asian Cultural History (edited together with Karel van Kooij, 1999).