---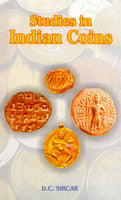 The present book is an authoritative and authentic source for the study of Indian coins. It not only describes the coins but also studies them critically in all their aspects. The points which are dealth with here are on numismatic studies in India; Satamana and Sana; Kautilya and Buddhaghosa on coins; silver coins of Vasisthiputra Satakarni; alleged coins of the Mahisa kings; coins of semi-independent rulers; date of Isvaradatta's coins; Petluripalem hoard; some problems of tribal coins; coins of Kumaragupta I, Harigupta and Ramagupta; coins of Muhammad bin Sam and Prthviraja; coins of Kakatiya Prataparudra I; Gajapati Pagoda, Ganga Fanam and Ramatanka; coins of Bhairavasimha; Maratha mint under the Peshwas; Cowrie-shell, rupee and pice. In describing the features of a particular class of coins from the standpoint of standard, style and fabric or in discussing the significance of the numismatic terms, the author has utilized the literary data which have a bearing on them.
Review(s)
"Prof. D.C. Sircar'sÄ. Studies in Indian Coins is indeed a valuable contribution to Indian numismatics. It incorporates his papers on numismatics which were published in a number of periodicalsÄ are highly stimulating, interesting, and instructive. Prof.
About the Author(s)
D. C. Sircar (1907-1984) was an epigraphist, historian, numismatist and folklorist, known particularly for his work deciphering inscriptions in India and Bangladesh. He was the Chief Epigraphist, Archaeological Survey of India (1949-1962); Carmichael Professor of Ancient Indian History and Culture, University of Calcutta, (1962-1972) and the General President of the Indian History Congress. In 1972, Sircar was awarded the Sir William Jones Memorial Plaque.