---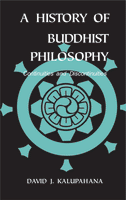 The present work has, since its original publication in 1976, offered an unequaled introduction to the philosophical principles and historical development of Buddhism. Now, representing the culmination of Dr. Kalupahana's thirty years of scholarly research and reflection, A History of Buddhist Philosophy builds upon a completely reconstructed, detailed analysis of both early and later Buddhism.
Part I is devoted to early Buddhism, opening with a thorough examination of pre-Buddhist thought and its absolutist character, followed by biographical sketch of Siddhartha, the historical Buddha. Each of the following nine chapters examines a major theme in Buddhist discourse: knowledge and understanding, experience and theory, language and communication, freedom and happiness, human personality, human suffering, the object, the moral life, and popular religious thought.
Part II examines later Buddhism by mapping its continuities with and divergences from early Buddhist doctrine. Dr. Kalupahana illustrates the movement of some schools towards substantialism and absolutism while other schools made a persistent attempt to retain the original teaching of the Buddha.
Dr. Kalupahana's new work is an authoritative and insightful analysis, of importance to anyone involved in Asian thought.
Review(s)
About the Author(s)
David J. Kalupahana is professor of philosophy at the university of Hawai'i.