---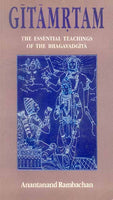 Gitamrtam is a concise and insightful discussion of the central themes of the Bhagavadgita. Beginning with the Gita's teaching about the nature and role of the incarnation, Dr. Rambachan identifies kama, a state of desiring and wanting, as life's fundamental problem. The proper resolution of this human dissatisfaction is to be found in the understanding of oneself to be the full and complete self (atman). Such knowledge, Dr. Rambachan vigorously argues, enables one to act in the world from a deep sense of inward peace and fulfilment. Self-knowledge transforms human motivation and liberates us from the narrow confines of selfish action to the freedom of serving others. Dr. Rambachan establishes that the Bhagavadgita ideal is not indifference to the world and the severing of human relationships, but
love and compassion born out of the identity of oneself with all beings. In a lucid and accessible style, Dr. Rambachan shows how the Gita's teaching makes possible a love which embraces all and infuses each act with compassion.
Review(s)
About the Author(s)
ANANTANAND RAMBACHAN is an Associate Professor of Religion at St. Olaf
College in Minnesota. A native of Trinidad and Tobago, Dr. Rambachan earned
his Ph.D. at the University of Leeds in the United Kingdom. He was awarded
Trinidad's second highest national honor, the Chaconia Gold Medal, for
public service in 1987.