---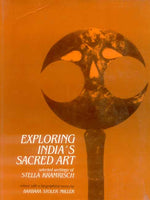 Exploring India's Sacred Art presents a selection of Stella Kramrisch's influential essays, along with a biographical essay. The writings collected here emphasize the cultural and symbolic values of Indian art. The first section discusses the social and religious contexts of art. This is followed by essays on various forms of ritual art. The section entitled "The Subtle Body" is derived from her term for the form that underlies concrete shapes; it includes studies of literary and visual symbolism. Further essays concentrate on formal and technical aspects of temple structure and painting in the context of their symbolic meaning. Over 150 illustrations, many of them prepared especially for this volume, provide a vital visual dimension to her writings. Also included is Joseph Dye's comprehensive bibliography of her works. Exploring India's Sacred Art testifies to the life and work of one of this century's greatest art scholars and provides an unparalleled source of insight into Indian art and culture.
Review(s)
"This publication is a comprehensive volume that has brought together the basic concepts of Stella Kramrich's vision of Indian Art and framed it against the backdrop of a life history characterised by passionate intermingling of spirit and form". - INDIAN
About the Author(s)
STELLA KRAMRISCH was professor at the University of Pennsylvania and Curator of Indian Arts at the Philadelphia Museum of Arts. She was also previously Professor of History of Indian Art at the University of Calcutta. Her books on Indian Art are now considered classics.