---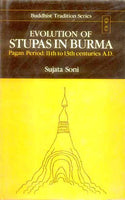 This work is the outcome of painstaking research on the evolution of stupas in Burma, Pagan Period, 11th to 13th centuries a.d. Burma known as the land of pagodas is nowhere so rich in the number of pagodas as in Pagan. The stupendous vastness of the ruins reminiscent of the glory that was of Pagan
in its heyday inspired this study. The evolution traced back to the beginning of the stupa structure in India, deals with the various architectural phases (duly illustrated) it passed through ending with the final stage in the Rhwedagum Pagoda in Rangoon (Burma). Apart from the material side of the study, there is the need of looking into the aesthetic and spiritual side of the evolution. That religious architecture is a barometer of the material prosperity and social outlook of the people,
besides being the handmaid of the spiritual aspirations of the devotees, is amply discernible in this study.
The value of the art survey in this work is further enhanced by the inclusion of over 138 photographs. Moreover, besides the magnificent Pagan art, it gives a comparative view of the religious architectual development in the Asian countries contemporaneous with the Pagan Period.
Review(s)
About the Author(s)
SUJATA SONI, is M.A. from the Arts and Science University of Mandalay,
Burma, besides being F.R.A.S. of Great Britain and Ireland. She was the
Manager of the Buddhist Discussion Group Mandalay, a regional centre of the
World Fellowship of Buddhists. Her writings appeared in many Buddhist
Journals throughout the world.