---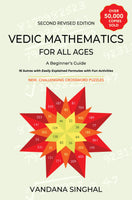 Sale
About the Book:
Can you multiply 5712946 × 9999999, find the square of 99975, and the cube root of 438976 in 40 seconds using a Calculator? The chances are NO, but using Vedic Mathematics you can crack them in 20 seconds!
This book teaches you to calculate fast and in straight steps. The graphics and colours used in the book make it user friendly and easy to understand. Fun filled activities in each chapter make the process of learning Vedic Mathematics enjoyable for all ages. This book will help you to become a confident and skilled mathematician. And practice becomes easier and even more enjoyable with exciting new crosswords in this revised edition.
About the Author:
Vandana Singhal, B. Ed in Mathematics from Calcutta University, is a board member and mentor for many schools. She has conducted over a hundred Vedic Mathematics workshops with students and professionals in India and U.S.A.
 Reviews:
"The book is excellent. It's really well laid out with good formatting and style. The explanations are really very clear with carefully graded worked examples"- Mr. James T Glover (Author of various Vedic Maths books)
"Using different colours is certainly a very good idea, the material is well organized and the style is good. It is a very nice book, especially with the creative activities."- Mr. Kenneth Williams (Author, Vedic Mathematician, U.K.)
"I found the book to be extremely readable. The explanations are very lucid and the use of three colours for the explanations to be very helpful and innovative. The progression of chapters is also very well thought out. I would definitely recommend this book to students of Vedic Mathematics."- Dr. Abhijit Das (International Faculty, World Academy of Vedic Mathematics)