---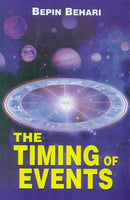 Sale
The Timings of Events fulfils an important gap in classical astrological literature. The ancient
seers with yogic siddhis did not need rules for predicting future events. They clairvoyantly saw
the future course of events. The astrological principles are given for those who are not so evolved. The astrological principle aim at helping those who are interested to live a life according to the evolutionary course of their everyday life.
The general astrological principles should be modified according to ones individual uniqueness. This applied even in the case of the principles relating to the constitution of man as revealed by the septenary nature of man and the special ray on which the individual is evolving must be taken into account prior to applying the general principles of astrology including those of the timing of events. The ancient astrological savants gave different principles relating to the timing of event which they thought could be helpful for different categories of individuals; they did not intend to provide any exhaustive and well integrated treatise on this special subject. In this way we find different texts giving different principles highlighting creation special features of the subject. Presently there are many books on the subject but a consolidated documentation of theses principles is difficult to obtain at one place. Even among the present astrological writers there has been a tendancy to deal with certain special categories of the rules. The present study attempts to fulful this need to some extent in a very modest manner. The
present study does not try to present any new theory on the subject but its primary aim is to compile together, giving at one place the most popular principles on the subject.
Review(s)
About the Author(s)
Bepin Behari, an Economist by profession, ann alumnus of Patna and London Universities, retired from the Government of India service as a diplomat.He has studied Vedic Astrology for more than fifty years and has published more than fifteen books on the subject.His Revelation of Lunar Mansions and Zodical Signs has already acquired an international readership.His forthcoming title The Law of Ultimate Destiny is expected to lay down a novel foundation for New Age Astrology.