---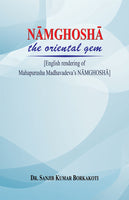 Sale
About the Book:
Madhavadeva (1489-1596 AD) was an associate as well as disciple of Srimanta Sankaradeva. He was an erudite scholar. Born at Narayanpur in Assam, Madhavadeva dedicated his whole life to serving his preceptor. He helped Srimanta Sankaradeva to propagate the newly launched Vaishnavite order Eka Sarana NŒma Dharma. This order preached devotion to a single God, Lord Krishna. Srimanta Sankaradeva asked Madhavadeva to author a book elucidating the theories of Eka Sarana NŒma Dharma, which would also serve as a book of prayer hymns for the devotees. So Madhavadeva authored Namaghosha. His Namaghosha and Bhakti-ratnawali occupy important place in the Eka Sarana Nama Dharma literature along with the Kirtana-ghosha and the Assamese rendering of the tenth canto of Bhagavata by Srimanta Sankaradeva. Devotees sing verses from Namaghosha in their daily prayers. Vinoba Bhave was so impressed that he authored a book Namaghosha Sar (Essence of Namghosha). In the present book, Dr Sanjib Kumar Borkakoti has offered prose transcreation of this beautiful scripture Namaghosha.
About the Author:
A keen researcher of medieval hagiographies, Dr Sanjib Kumar Borkakoti has authored biography of Srimanta Sankaradeva in both English and Assamese. He has translated lyrics of Bargeet and Gunamala authored by Srimanta Sankaradeva and Namaghosha authored by Madhavadeva to English. He has written an English novel named The Redeemer based on the life of Srimanta Sankaradeva. He has authored more than sixty books on education, culture, development issues, literary criticism, philosophy etc. He has analysed Srimanta Sankaradeva's philosophy too.
Universities of Oxford, Cambridge, Chicago, California, Pittsburgh, Stanford, Boston, Pennsylvania, Columbia, Emory, North Carolina, Texas, Pittsburgh, Minnesota, Syracuse, Wisconsin, Hawaii, Washington, Illinois, Yale, Michigan, Toronto, Heidelberg etc have preserved Dr Borkakoti's books in their libraries. He has also delivered lectures in different universities.
Dr Borkakoti has used online platforms widely for wide discussions of Srimanta Sankaradeva's contributions. He is founder President of Society for Srimanta Sankaradeva, an organization engaged in promotion of Srimanta Sankaradeva's legacy. He is an expert member of International Committee on Intangible Cultural Heritage; he has been promoting cultural heritages of Assam like Bihu, Bargeet etc in this platform. His personal blog is  www.borkakoti.blogspot.in His website is www.drsanjib.net