---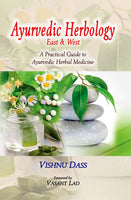 This is a comprehensive and practical guide to Ayurvedic herbal medicine. Importantly, it is one of the first books to categorize commonly used Western medicinal plants with Ayurvedic herbal energetics. It also focuses on traditional Ayurvedic herbs and formulas that are readily available. Other topics include Ayurvedic theory, the art of herbal formulation, medicine making, and home remedies.
Review(s)
"This book breathes the life of practical Ayurvedic principles, methodology, pharmaceutical and pharmacological actions." - Dr. Vasant Lad
"... a comprehensive and detailed study not only of Ayurvedic herbology but of Ayurvedic medicine itself, excellent for all students of herbs and an important new contribution in the field." - David Frawley
"Ayurvedic Herbology is a well-written and valuable addition to the herbal library of any practitioner. Many unique herbs are included as well as the author's personal experience with home remedies." - Dr. Marc Halpern
About the Author(s)
 Vishnu Dass is an Ayurvedic practitioner and herbalist and the owner and director of Blue Lotus Ayurveda. He received his training under the guidance of Dr. Vasant Lad and is a graduate of the Ayurvedic Institute in Albuquerque, NM. Having served on the board of directors for the National Ayurvedic Medical Association, he remains an honorary lifetime practitioner member. He teaches extensively on Ayurveda and Yoga philosophy for schools of clinical herbalism as well as Yoga retreat centers and teacher training programs. His knowledge in both Eastern and Western herbal traditions combined with years of clinical practice comes together in his practical and inspired writing.