---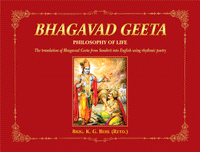 About the Book: 
The "Bhagavad Geeta" in English Poetry has been written using simple words that convey the desired meaning as envisioned in the Sanskrit shlokas. To make it more lucid for readers, each shloka has been translated into rhythmic prosaic English Poetry, which makes it easy to read and understand. The book has its own style, the left page of the book has the Sanskrit shlokas with the English (Roman style) version given against each shloka to enable readers to pronounce the Sanskrit shlokas correctly. The meaning of some of the difficult words has also been provided to aid understanding. On the right side of the book, the English translation of each shloka has been given in rhythmic poetry corresponding to each Sanskrit shloka. Thus, an attempt has been made to simplify the philosophy of life depicted in the Bhagavad Geeta, so that, more people may read it and benefit from its teachings to purify their souls and attain spiritual solace and eternal peace.
About the Author: 
Brig. K.G. Behl (Retd.) was born in 1935 in Rawalpindi and has been writing rhythmic poetry in his own unique style since his college days, which has appealed to many readers. In 1963, he joined the Indian Armed Forces and was commissioned in the Corps of Engineers. As part of his service in the Army, he travelled extensively and experienced the country's diverse culture. He became fellow of the Royal Geographical Society (London) (FRGS) in 1970 and is a life member of the Institution of Surveyors, Indian National Cartographic Association and Computer Society of India.
He retired in 1993 from the Indian Army as Deputy Surveyor General of India. He was included as a member of the National Committee on Land reforms. He also served as a member of the National Level Steering Committee on Computerization of Records for the Government of India. Since 2000, he has been working as a social worker and supporting various NGOs in Dehradun. He writes poetry in English, Hindi, Punjabi and Urdu and regularly contributes articles for newspapers.
Before writing the book 'Bhagavad Geeta' in Rhythmic English Poetry, Brig. K. G. Behl spent five years studying various books on the subject.